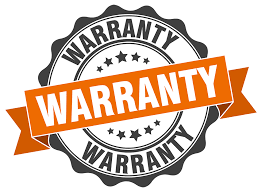 SEYMO 2-year warranty from the date of delivery, the proper functioning of the device whose identification data appear in this document. The conditions of this guarantee are as follows:
• The warranty period starts from the date of purchase.
• During the 2-year warranty period, the cost of spare parts and labor will be completely free for the user.
 • The shipment will be paid by the user to the Official Service workshop, when the repair is carried out, if possible, the cost of return to the user will be borne by said user.
• To make use of the guarantee right recognized here, it will be necessary that the device be used within the scope for which it is intended. This warranty does not cover installation. They are not covered by this guarantee and, therefore, it will be void in the event of breakdowns produced as a result of:
• Force majeure (atmospheric and geological phenomena, power surges, etc.)
 • Improper use or not in accordance with the manufacturer's instructions.
• Lack of maintenance, water ingress
• Use of abrasive cleaning products that cause damage to sheet metal, paint and plastics.
 • Accidental breakage of components.
• Incorrect or non-regulatory installation and / or connection (voltage, electrical connection
not suitable).
• The guarantee will not be effective if the appliance's nameplate is tampered with.
• A warranty intervention does not renew the warranty period of the product.
 Legal Guarantee: The user is informed that, in addition to the commercial guarantee recognized in this document, he has the protection of the legal guarantee established by Royal Legislative Decree 1/2007, of November 16, regarding the requirement that the acquired good is in accordance with the contract of sale, being able to claim the seller, in case of disagreement, for the faults that are made manifest within a period of two (2) years from delivery, although from the sixth month the user will have the burden of proving that lack of conformity. During this period, the legal guarantee recognizes the right to request the free repair of the property or its replacement, unless one of these options is impossible or disproportionate. When it is not possible to demand the repair or replacement or when these have not been carried out within a reasonable time or without major inconveniences for the consumer, the consumer may request the price reduction or the termination of the contract. Claims should be addressed to: Seymo via email users. info@seymonautica.com